Coming Soon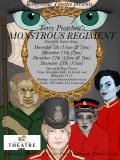 Terry Pratchett's Monstrous Regiment
December 5th, 11th, 12th
at
7:00pm
with matinee on December 5th, 12th, 13th
at
11:00am
BOOK NOW TO SEE OUR NEXT SHOW

Limited season, limited tickets... don't miss out!
Make a booking by clicking the link below


Terry Pratchett's Monstrous Regiment
Directed by Bradley Towton
December 5th-13th
11am and 7pm shows
The 'Monstrous Regiment' is made up of: a reformed vampire, Igor (the highly progressive surgeon), a troll and... a young woman who discovers that a pair of socks shoved down the front of her trousers is a good way to open doors in a man's army!
This army is losing and in order to survive the new recruits will have to fight dirty, pretend to know how to shave, and even occasionally dress up as a woman.
Seating is cabaret seating with six per table, and seats can be selected when booking.
BYO nibbles and drinks (the theatre kiosk will NOT be open for this production - totally BYO)
COVIDSAFE notice:
Please note the hall has a Phase 4 COVID capacity of 185 persons based on the 2 square metre rule (the Hall itself usually has a capacity of 367). We have reduced our seating capacity for this production to under 100 and encourage social distancing between groups. High touch surfaces will be cleaned regularly and hand sanitiser will be available. If you are unwell at the time of your booking you will not be permitted to attend. Please contact our ticketing officer for a refund.