Bookings Open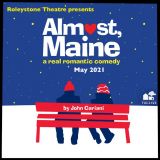 Almost, Maine
May 14th, 15th, 21st, 22nd
at
7:30pm
with matinee on May 16th
at
5:00pm
Almost, Maine (a comedy for romantics)
May 14 - May 22 2021
Directed by Kristen Twynam-Perkins
"A comedy for romantics" by John Cariani
Propelled by the mystical energy of the aurora borealis and populated with characters who are humorous, plain-spoken, thoughtful, and sincere, Almost, Maine is a series of loosely connected tales about love, each with a compelling couple at its centre, each with its own touch of sorcery.

Details:
May 14 @ 7:30pm
May 15 @ 7:30pm
May 16 @ 5:00pm
May 21 @ 7:30pm
May 22 @ 7:30pm
Venue - Roleystone Hall (corner Jarrah Rd and Wygonda Rd Roleystone - parking off Wygonda Rd)
Bookings - open soon (booking link will be live soon)
Tickets - $15 concession and $20 full adult price
The kiosk will be open for coffee/tea, soft drinks and light snacks.
You can also BYO drinks and nibbles.
Please note - there will be no intermission in this play, with a running time of 90 minutes.
Click here to book - https://www.trybooking.com/events/landing?eid=746008&fbclid=IwAR15099xWsvb_eZxVjr5CwzKYYXJLxIFLkHl1jf1Jl00SeeAdKoa-p9WF28